Enhance Your Overall Skin Health with These natural herbal products
Longing for healthy, glowing skin but not happy despite intensive care? Maybe, it's time to switch to natural herbal products. Due to the heightened stress, be it at home or work, constant exposure to pollutants and germs, or harsh UV rays, our skin gets damaged. Such harmful factors leave your skin dry, and signs of aging like wrinkles, dark patches, blemishes, and fine lines may also appear, thereby giving a dull, lifeless, sunken look to the face. Though you might have tried the best and most expensive products to get rid of these skin health problems, the solutions for acquiring healthy, spotlessly clean, and radiant skin can also be found in the age-old ayurvedic scriptures. Ayurveda has a holistic approach to beauty and skincare that includes inner, outer, and lasting beauty and that's the perfect way to take care of your skin health. 
First things first, it's important for you to get rid of all the chemical-laden products that your beauty closet stocks right now. To support healthy detox, nourish your skin naturally, and maintain its health without exposure to chemicals, it's important that you incorporate only Ayurvedic personal care preparations into your skincare regime. So, instead of using creams, lotions, and moisturizers that contain chemicals, pamper your skin with Kumkumadi Tailum, and other natural herbal products, derived from potent herbs and oils. Alongside, a regular serving of an Ayurvedic supplement can also be taken to support healthy skin from within. To sort it out for you, this blog post shares a list of a few herbs, Ayurvedic supplements, and products that support good skin health so that you take your pick and stay gorgeous.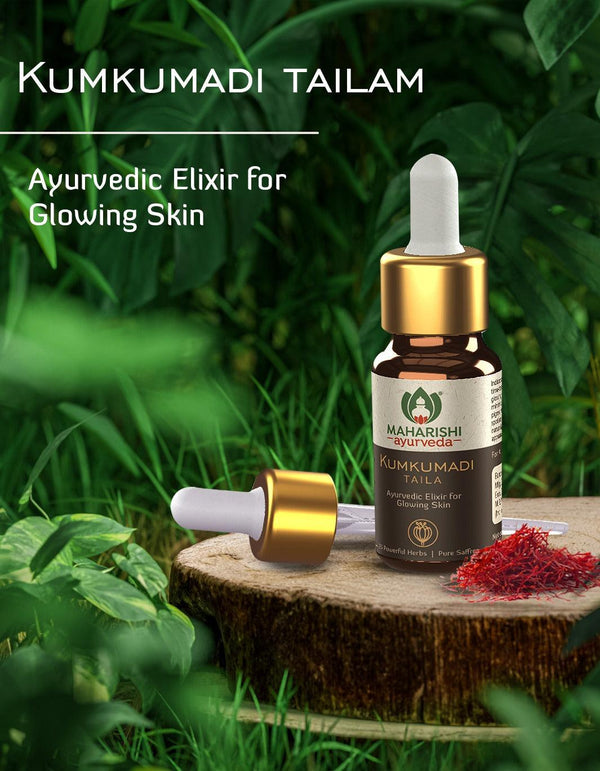 Herbal Soaps
Not cleansing your face well ages your skin early and creates a build-up of dirt, which leads to inflammation and subsequent breakouts, dryness, and premature signs of aging. Regular care with a good herbal body soap may help you prevent these skin problems. It also ensures that your skin retains its surface glow while being healthy and nourished on the inside. 
Maharishi Ayurveda

 

Sandalwood soap

 

is one such nourishing soap that helps in getting soft, supple, and blemish-free skin. Packed with the goodness of Blue Water lily, Turmeric, and precious essential oil of certified Indian (Agmark) Sandalwood, this product cleanses your skin deeply, removes dirt, and restores its natural glow.  
Maharishi Ayurveda

 

Neem soap

 

is another body soap that gives a fresh, clear look to your skin.  It's an antibacterial, natural cleanser made from pure neem, an incredibly effective acne combatant. It detoxifies the skin cells of pollutants, helps remove acne, pimples, and rashes, and gives you a fresh look. 
The astringent property of lemongrass makes it a perfect soap for those who complain of oily skin. Maharishi Ayurveda lemongrass soap contains pure lemongrass extract that helps detoxify your skin, remove dirt and impurities, and leave it feeling clean and clear. If you have oily skin, its regular use will help you minimize pores, control oil secretion, and prevent acne and other skin issues. 
So, discard the soaps that contain parabens, triclosan, and other toxic chemicals that irritate and dry the skin and leave it feeling sensitive. Instead, work these herbal soaps into a lather and apply these to your gentle skin. 
Kumkumadi Tailum
This Ayurvedic skin whitening oil will work wonders for you, especially if your skin looks dull and has lost its complexion. This age-old Ayurveda beauty potion also offers a complete skincare solution, from deeply nourishing the skin, to effectively working as a cleanser, to bringing back the skin's natural glow. Maharishi Ayurveda Kumkumadi Tailum is one of the best and most authentic formulations which is made from pure saffron, a wonderful antioxidant (free-radical scavenger) that detoxifies your body and skin, helps fight pigmentation, and adds a youthful, healthy glow to the skin. It also contains other potent herbs that work synergically to help you maintain your overall skin health
The potent oil helps in lightening your skin tone and improving your complexion.
 It helps reduce dark spots and other pigmentation marks.
It is one of the best

 

Ayurvedic beauty products, which is effective in reducing wrinkles, fine lines, dark spots, and other early signs of aging
It protects the skin against free radical damage caused due to exposure to pollutants and UV rays.
It also keeps your skin hydrated, nourishes it from within, and helps get rid of skin dryness. 
This non-sticky oil is safe for long-term use, and suitable for all skin types. Just take 3-4 drops of this oil on your palm and apply it all over your face with your fingertips. Then gently massage onto the skin until it is fully absorbed and allow it to work overnight. 
Organic Neem
Medicinal herbs like neem have been passed down by our generations to help us get spotlessly clean and glowing skin. Neem helps you balance Pitta and Kapha dosha, thereby helping remove Ama (and other toxins from the body). It helps purify the blood and neutralize damaging free radicals to support healthy, glowing, and radiant skin. Maharishi Ayurveda Organic neem is available in tablet form and can be taken daily to purify your blood and detoxify your body from within. This helps you enhance your skin health from the inside out. You can take 1-2 tablets twice a day with water after meals and even consult your healthcare expert on how to use it in the best way. 
Amalaki Rasayana
In Ayurveda, Amalaki Rasayana, or amla is considered one of the best rejuvenating herbs. It contains loads of antioxidants, therefore the amla's benefits for skin health are immense. For instance, it aids in maintaining skin health and glow. Regular intake of Amalaki  
is also known to exhibit potent antioxidant properties that help beat ageing cells. Its daily helps prevent premature ageing, fine lines, dark spots, and wrinkles. 
Maharishi Amrit Kalash
This Ayurvedic supplement is suitable for everyone and especially beneficial to those who are exposed to daily stress, toxins, and environmental pollutants, and showing signs of premature ageing like exhaustion, fine lines, greying of hair, and loss of skin luster. A daily serving of Maharishi Amrit Kalash 
Helps relieve stress. Increased stress leaves a mark on your face - dry skin, acne, and wrinkles are just a few ways that it manifests itself. However, taking this supplement regularly helps relieve day-to-day stress, thereby avoiding such signs and promoting a youthful glow and aura to the skin
Helps achieve Tarun Vaya (a process that defies ageing). Free radical makes your skin lose its glow and elasticity and leads to wrinkles, dark spots, and fine lines. As an incredibly powerful, full-spectrum antioxidant source (which is up to 1,000 times more potent than vitamins C and E), Amit Kalash prevents the formation of free radicals, thereby promoting a youthful look
Revives the body's ability to detoxify which supports your skin health and prevents skin problems